(Note: This information was copied from Wikipedia)
The Carpenters
were an American vocal and instrumental duo, consisting of siblings
Karen
and
Richard Carpenter
. Though often referred to by the public as
The Carpenters
, the duo's official name on autho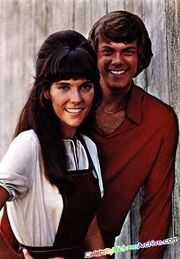 rized recordings and press materials is simply "Carpenters".
[1]
During a period in the 1970s when louder and wilder
rock
was in great demand, Richard and Karen produced a distinctively soft musical style that made them among the
best-selling music artists
of all time.
[2]
Carpenters' melodic pop produced a record-breaking run of hit recordings on the American Top 40 and Adult Contemporary charts, and they became leading sellers in the soft rock, easy listening and adult contemporary genres. Carpenters had three No. 1 singles and five No. 2 singles on the Billboard Hot 100 and fifteen No. 1 hits on the Adult Contemporary chart (see The Carpenters discography). In addition, they had twelve top 10 singles (including their No. 1 hits). To date, Carpenters' album and single sales total more than 100 million units.[3]
During their 14-year career, the Carpenters recorded 11 albums, thirty-one singles, five television specials, and a short-lived television series. They toured in the United States, the United Kingdom, Japan, Australia, the Netherlands and Belgium. Their recording career ended with Karen's death in 1983 from cardiac arrest following complications of anorexia nervosa. Extensive news coverage of the circumstances surrounding her death increased public awareness of the consequences of eating disorders.[4][5]
Role In Visiting Aunt Miriam
Edit
The Carpenters are a favorite of Aunt Miriam's, she often brings the duo up at times. Their song, Top of the World is used to parody Circle of Life in The Luxray/Litleo King.
Mr Krabs Goes Nuts
Edit
The Carpenters and their songs will be mentioned and used in the two films...