Rita is a bikie and ex-con who comes to live with the Pickles Family and friends.
Physical Description
Edit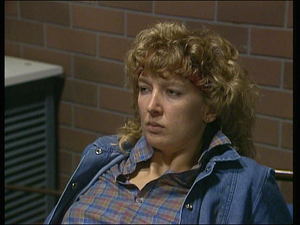 Rita is a tall, thin woman with a crazy blonde mullet-like hairstyle.
Introduction
Edit
Rita first appears as a fellow prisoner of Peach, her and Peach become close friends and happens to be released the same day as Peach, she only knows Miriam though sight, but when Miriam passes her cell, she appears at the door asking Miriam to let her stay with them, Miriam's sister Vera is reluctant, but Miriam ends up giving in and not listening to Vera, when they arrive home, Bob and Franky come down the stairs, they see Rita, both Bob and Franky fall for her, Bob makes a deal with Franky, that who ever can win her heart wins and the loser has to watch the winner kiss her for a week.