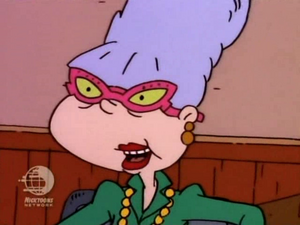 Miriam is a main character and the main matriach of the current Fletcher family.
Life Story
Edit
Born in 1948 on the 15th of January, to Pure-Blood parents Mary and Hal Fletcher, Miriam always wore a smile, when she was eleven years of age, she attended Hogwarts School of Witchcraft and Wizardry, she was placed in Slytherin house, she was a straight-A student and did well for her house and fellow housemates. When she graduated in 1966, she applied for a small desk job at the Ministry of Magic in London, where she lived while in that job, when she quit, she moved back to Kanto and lived there. In 1985, Miriam met John Davidson, John and Miriam's relationship was always happy, in 1988, John proposed to Miriam and she accepted, however, on a business trip later that week, John was tragically killed, breaking Miriam's heart, that was when her faith in God grew more than it had ever been, when Mario and Luigi were born, she spoiled them rotten.
Relationships
Edit
Miriam has been in quite a few relationships with men. Her first serious relationship was in 1985 with John Davidson (a friend of her cousin, Louis) who had proposed to her in 1988, with the promise of moving to the Alola region, where John was from, however, John was killed in a boating accident while on a business trip, his death caused Miriam to swear off dating for many years.
In 2009, Miriam met Kent Brockman, an anchorman for the local news station. Miriam and Kent fell in love instantly and they began dating on New Year's Eve 2009. During the Terwilliger disaster, Miriam feared that Kent would die, so she stayed close to him. Miriam and Kent got married in August of 2011. In 2016, after almost five years married, Miriam and Kent will begin to have difficulties in their marriage.